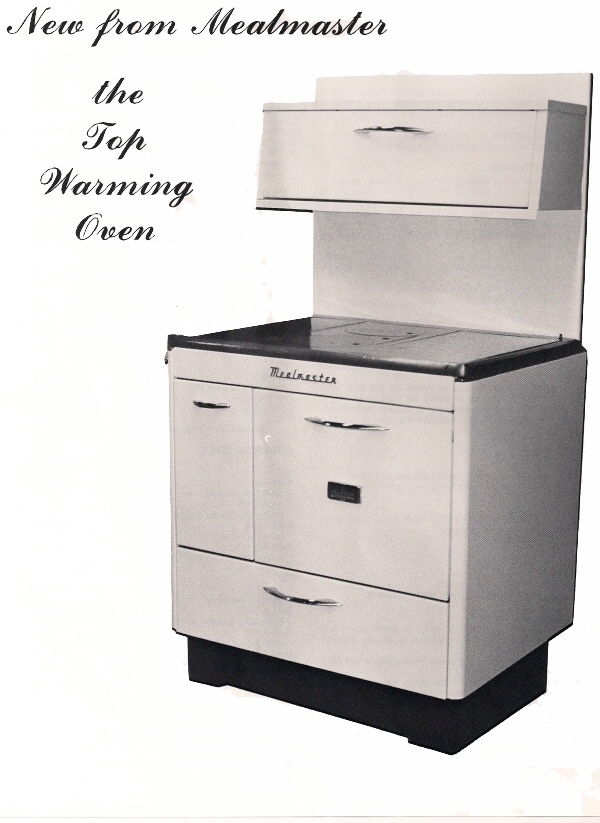 Complies with NFPA 211 specifications
Fuel
Coal & Wood
The entire inside body of the range is constructed of Armco Aluminized Steel that has great strength and high resistance to rust and corrosion. The outside is finished in porcelain enamel.
Mealmaster's patented two-piece lift top will stand up either direction without holding. Both pieces of the lift top can be raised as one unit when building a fire.
For refueling, the front piece only is raised, thus preventing smoke and fumes from escaping.
All Mealmaster Ranges are equipped with a specially designed "five-sided" oven finished in porcelain enamel.
The oven is heated by a series of three flues extending to the top, bottom, back and both sides. This new method of heating guarantees you more uniform heat in all parts of the oven.
The door is insulated with fiberglass, thus preventing loss of heat.
All Mealmaster ranges are equipped with a thermometer that accurately registers oven heat.
The cooking top is made of heavily reinforced castings, ground and polished to a smooth even finish.
The utility or storage drawer is standard equipment on all deluxe models. Plenty of room to store your cooking utensils. Drawers operate on noiseless runners for ease in opening and closing.
The firebox of this range is completely lined with long lasting firebrick. Firebrick will give you longer service than the old type cast iron linings and costs no more to replace.

Colors available Black or Almond
Add $150 for color

Price $2,050
Plus Shipping

Setback Requirements
The MEALMASTER cooking range must be no closer than twenty-four (24) inches to combustible material on front, rear, and both sides.
The use of a stove floor board to protect the floor is required