Chambers Stoves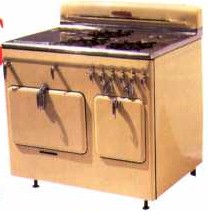 Here are some of the features that come on a Chambers stove
This brand of stove is built to last.


Width is 37 1/4 "
Depth 29 1/2 "
Height varies depending on model
The model C deluxe is 51 1/2" High


Antique Stoves is always restoring Chambers stoves.

YOU can operate a Chambers Range just like any other cooking equipment, and that, of course, includes the oven which does a beautiful cooking job with the gas turned on as well as offering the service of cooking with the gas turned off.
There are new and exclusive NON-TIP BASKET OVEN RACKS which slide in and out easily, permitting the loading of racks outside the oven itself. Furthermore, there is perfect heat distribution over the entire usable area on each rack.
Chambers Ranges are equipped with ROBERTSHAW OVEN HEAT CONTROL as fine as money can buy. Disregarding, momentarily, retained-heat cooking, you can buy no finer domestic oven any place-no equipment that excells the new Chambers in straight heat control baking.
There is a new and exclusive
HIGH SPEED BURNER
which actually reaches baking temperatures in about 5 minutes-that preheats the oven to 5000 in
11
minutes. The oven a/so maintains low temperatures indefinitely-a major achievement with heavy insulation. This new oven design provides extra capacity. Two large Angel Food cakes can be baked at once without shifting, large cookie sheets can be used­in short, there is an unusually big baking capacity. By removing the racks, a roaster holding 30 pounds of meat can go in easily.