Sponsored by J.E.S. Enterprises, Inc. for The Old Appliance Club
This is the very first presentation of
The Antique Stove Communiqué so we would like to
talk about an important issue to start that comes up
fairly frequently ...
Stove INSULATION
Because we get so many calls about stove insulation this information will
help to drastically cut downtime, get on the right path fast and eliminate costly mistakes.
Reasons Why Stoves Need New Insulation
Rodents
We receive many calls daily about stoves with insulation ruined by rats or mice. The smell is so hideous it will chase you right out of your house! You cannot do anything to save the old insulation once it has been used as a toilet by these pests. Luckily you don't have to get rid of your stove. Once cleaned and relined with fresh insulation your stove will not smell any longer and will
last for decades.
Heat Loss in Oven
The insulation used in stoves 50+ years ago was the best available at the time. Over a half century is a long, long time and insulation breaks down.
Today, we have much better insulation. The news gets even better though. With the new higher grade stove insulation you will not have the heat loss you might have had. The bigger bonus is the stove will stay cooler on the outside too. Keep the heat where it belongs -- in the oven! Plus, in most cases it will use less gas due to better heat retention inside as well.
Stoves Affected by Water damage due to Floods
It's a terrible thing to have any type of flood in a home or shop. It can really rack up bills fast. One good thing to know is your stove can usually be salvaged at a great savings. The stove can dry out, but the insulation has got to go. We have seen many antique and newer ranges put back into good condition again even though they have been hit by flooding.
Vaporized Grease and Insects
"The Old Stove Smell".....that's what 50 years of vaporized grease can do. Insects that burrow in insulation are not only disgusting to see, but they will make your kitchen range smell terrible. Again, the good news is all of that can be reversed with fresh insulation.
Once finished you can say good-bye to "The Old Stove Smell".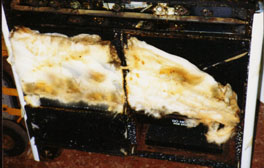 (stove front without door skins)s)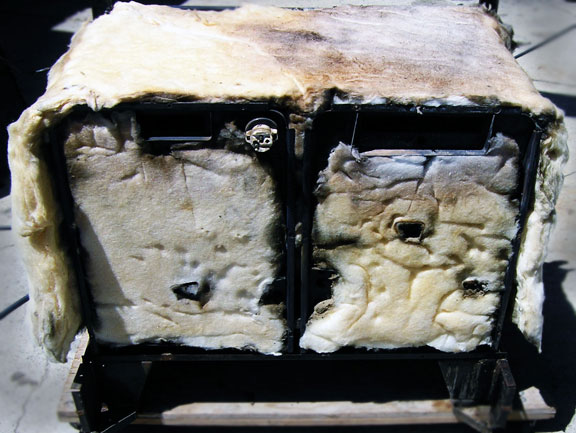 (stove back without sheet steel)
Food or Other Spills
It doesn't matter if you own a new or old range when it comes to food spills. They will not only make your stove smell bad but can even attract insects or rodents. With new insulation that problem is completely gone.
How to Purchase fresh Stove, Range and Oven Insulation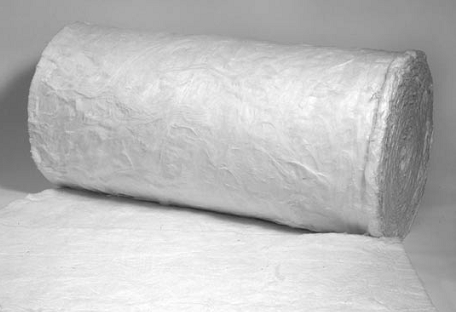 Always use genuine high heat stove insulation.
Do not use household insulation. It will not hold up and all of your money will be wasted. Don't pay twice. Get it right the first time and you will save not only time but money too.
If you cannot find insulation locally for your antique or new stove, we can help you right away.
We carry various types of insulation for all applications.
Cross Woven Heat Resistant Stove Insulation
Cross woven oven style is good to 1000 degrees. 95% of all stoves use this product. It is 2 inches thick and 24" wide. It's easy to cut and much easier to work with than old insulations of the past. It comes bisected so the 2 inches can easily be peeled apart to 1 inch thick.
Custom Ceramic Stove Insulation
This type of insulation comes in either a half or full inch size. It is heavier and more dense and is good to 2200 degrees.
| | |
| --- | --- |
| Degrees: | Thickness: |
| | |
| 1000 | 2 inches |
| 1000 bisected to | 1 inch |
| | |
| 2200 | 1/2 inch |
| 2200 | 1 inch |
*Insulation can be doubled or more depending on thickness required.
NO Model nor Serial Numbers needed.
Just remove the old insulation to use as a pattern.
Measure the length.
Insulation comes 2 feet wide.
Once you know how many linear feet you need
Order Online at:
Contact us: 805-643-3532 or toac@sbcglobal.net
Uses for High Heat Stove, Range and Oven Insulation
Antique, New and Commercial Stoves, Heating Ovens, Furnaces, Solar Ovens, Standard and Self Cleaning stoves, Broilers, Countertop stoves, Incinerators, Oven panels and Fireplaces.
Great for Powder Coating or Gun Curing Ovens, Smokers, BBQs and Welding Ovens.
All J.E.S. Insulation can easily be cut with regular scissors!
What brands of stoves use this type of insulation?
J.E.S. high heat stove insulation works in all ranges:
O'Keefe & Merritt, Wedgewood, Roper, Magic Chef, Universal, Western Holly, GE, Hardwick, Hotpoint, Chambers, Gaffers & Sattler, Wolf, Viking and many, many other stoves.
Fastest Way to Order and Receive Fresh Stove Insulation
Just contact us with the exact linear feet you need at:
toac@sbcglobal.net or 805-643-3532
We can take it from there and get your order on the road FAST!
Additional Information at: High Heat Insulation
Call for Bulk discount pricing available for large orders.
**Two FREE Bonuses with Insulation Orders
5 Easy Steps to Perfect Oven and Stove
Insulation Replacement Instructions
Although there is no insulation that is made to keep rodents out of a stove, we will send a second free bonus on "How To Keep Your Stove Critter Free for Years!". This information will detail the quick method to discourage little visitors from setting up camp inside your range.
Insulation is one of the primary components your stove must have. It will help use less fuel whether you use gas or electricity. Old grease or vermin odors will be a thing of the past. Last but not least, new insulation lasts for many years and is a dirt cheap investment to keep your stove like New!
Keeps Heat Inside for Optimum Performance!
Now is the time to take action.
We hope this first edition has explained why insulation is so important for your favorite stove.
Happy Cooking Stove Pilots!
Contact us at: toac@sbcglobal.net or 805-643-3532
Visit us at: The Old Appliance Club Shop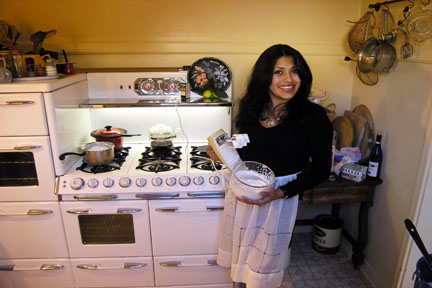 Alana E'Dahlia at the O'Keefe & Merritt Aristocrat range.
P.S. Email a picture of yourself in front of your antique stove and we will try and publish it in the upcoming issues!